When it comes to experiencing Navarre Beach like a local, venturing off the beaten path to discover hidden gem restaurants is a must. Part of Navarre's charm is the quiet atmosphere, lack of crowds, cozy restaurants with kind staff, and great food that locals and visitors have come to know and love over time. If you're visiting Navarre Beach soon, add these eateries to your itinerary.

Breakfast, Lunch, Dinner, & Drinks.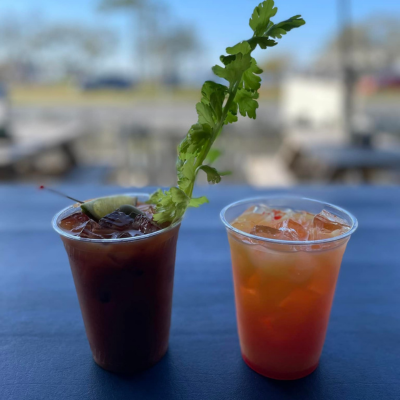 Tucked away on Highway 98 across from the beach, TC's Front Porch exudes a cozy, laid-back atmosphere and serves up mouthwatering Southern comfort food. From juicy burgers and fried shrimp baskets to their famous breakfast plates, TC's Front Porch offers a menu that satisfies cravings and captures the essence of the local Southern Gulf Coast favorites.

Image Credit: TC's Front Porch
Coffee, Breakfast, & Lunch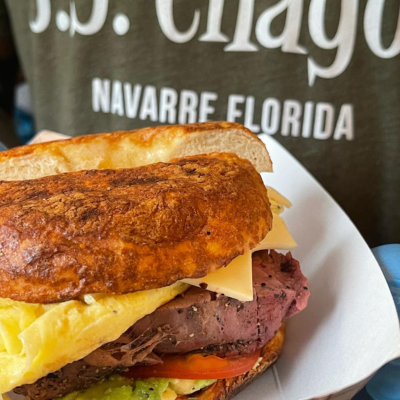 Another local's favorite in Navarre Beach is JJ Chago's. This family-owned restaurant is renowned for its flavorful coffee and vast breakfast and lunch menu, including Cuban sandwiches, BLTs, and breakfast burritos. With its delicious menu and friendly staff, JJ, this pint-sized eatery is loved by locals and Navarre Beach visitors alike.
where y'at seafood market
Lunch & Dinner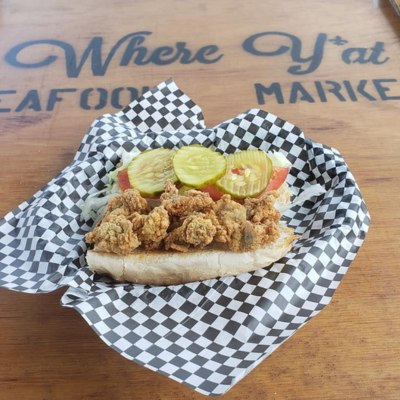 If you want to experience Gulf Coast seafood like a local, Where Y?at Seafood is a must-stop in Navarre. Located in a charming seafood market, this casual seafood spot offers a wide menu featuring Cajun-inspired dishes and classic seafood favorites. From Gulf shrimp and oysters to mouthwatering fish tacos and po' boys, you'll get to try some of the most popular dishes on the Gulf Coast.

Image Credit: Where Y'at Seafood Market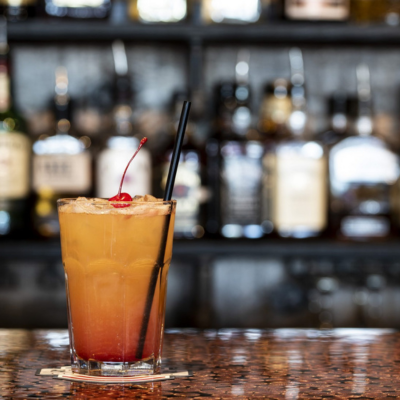 If you're in the mood for a quick and satisfying meal, Stripes is the place to go. This military-themed sports tavern boasts a wide menu selection with options for even the pickiest eater in the group. From the classic wings and burgers to seafood and vegetarian options, this beloved local sports bar caters to everyone?s tastes. Whether you?re looking for somewhere to catch a game or want to dine like a local, Stripes is a hidden gem that you have to try.

Image Credit: Stripes Pub & Grill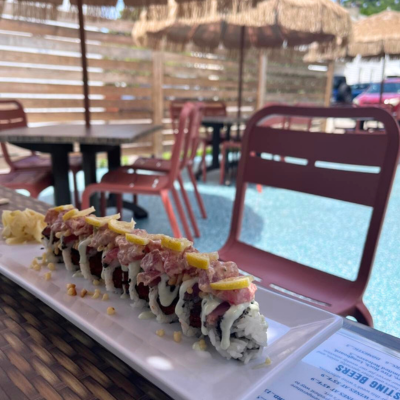 Uncover Navarre Beach locals? favorite sushi spot at The Slippery Mermaid Sushi Restaurant. Nestled in Navarre Beach, this sushi spot offers an array of expertly crafted sushi rolls, sashimi, and Japanese-inspired dishes. From traditional favorites to inventive creations, The Slippery Mermaid continues to be the top sushi recommendation in Navarre Beach.

Image credit: The Slippery Mermaid
Navarre Beach is home to a diverse food scene that extends beyond well-known establishments, and these are only a handful of the top choices by locals. From seafood to southern comfort and local dives, each of these spots promises a delicious dining experience that will make your vacation in Navarre Beach truly memorable. Step off the beaten path, dine like a local, and savor the flavors that define this coastal paradise.