Decorating your vacation rental is a great opportunity to make your home stand out and be more welcoming for guests. While many guests book vacation rentals based on the amenities and the location of the home, there are still people who book based on photos alone. You don?t want old and outdated furniture or d?cor to result in fewer bookings. You don?t have to spend a fortune on home d?cor and design either; by following these simple decorating tips, you can create a space that your guests will love!

1. Embrace the local theme
Capture the essence of your environment by incorporating d?cor that ties together a theme. For example, if your vacation rental is a beach house in Florida, light pastels, shells, and nautical d?cor can create a coastal chic theme. If your rental is a log cabin in Tennessee, a rustic feel with a cozy fireplace will make the guest experience much more authentic.

2. Showcase Local Artwork
Support local artists and infuse your vacation rental with a sense of local charm by displaying artwork that reflects the beauty and culture of your destination. Look for pieces that feature landscapes, natural elements, or anything that makes the stay more authentic. For example, if you own a condo on Navarre Beach, Florida, consider finding paintings of the pier, handmade shell artwork, and other local art that can bring the space to life.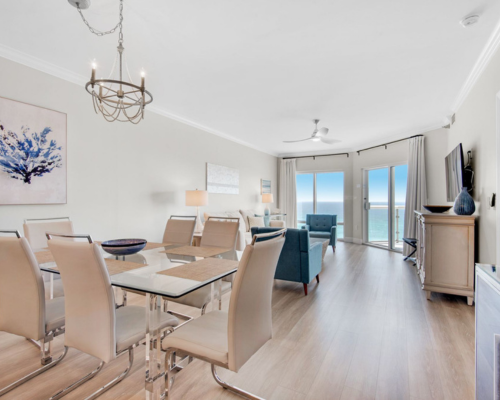 3. Optimize natural light
Make the most of the abundant natural light your destination offers. Choose sheer or light-filtering curtains that allow sunlight to illuminate the space while maintaining privacy. Position mirrors strategically to reflect light and create an illusion of spaciousness.

4. incorporate modern furniture
Infuse your vacation rental with a contemporary vibe by selecting modern furniture pieces. Choose clean lines, sleek silhouettes, and minimalist designs. While this is YOUR home, it?s best not to have personal items out for guest use or family photos. Choose comfortable yet stylish seating options and invest in quality materials that can withstand the demands of rental use.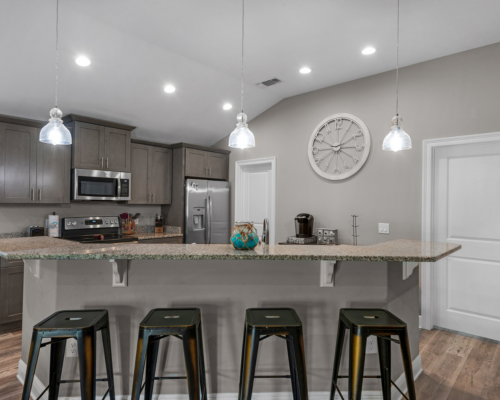 5. Create an inviting dining area
Make mealtimes special by setting up a welcoming dining area. Choose a dining table that can accommodate the maximum number of guests your rental can accommodate. Consider comfortable seating options such as cushioned chairs or benches. Add thoughtful touches like placemats, tableware, and fresh flowers to create a cozy and inviting atmosphere. If your dining space has a scenic view near a window, position the table so guests can see the view while dining.

6. OFFer a functional and fully-equipped kitchen
A well-equipped kitchen is a key factor in guest satisfaction. Stock your kitchen with essential cookware, utensils, and appliances. Consider providing extras like a coffee maker, blender, and toaster to enhance the convenience and comfort of your guests.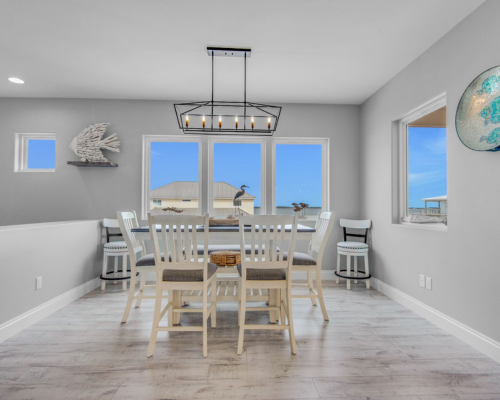 7. Create comfortable sleeping spaces
Ensure your guests have a restful sleep by investing in high-quality mattresses and bedding. Opt for neutral tones and high thread count sheets for a luxurious feel. Add layers with decorative pillows and throws that tie into the color scheme and provide a cozy ambiance. At Pensacola Beach Properties, we operate with a white-linen program so homeowners don?t have to use personal sheets and bedding for rental use.

8. Incorporate smart technology
To elevate the modern appeal of your vacation rental, integrate smart technology features. Consider installing a smart thermostat, keyless entry system, or smart home assistants to enhance convenience and provide a seamless experience for your guests.

9. add thoughtful touches
Go the extra mile by adding thoughtful touches that enhance your guests' experience. If your home is near the beach, provide beach essentials like umbrellas, chairs, and beach towels, or if your rental is near the mountains, provide some hiking gear for guests. Create a welcome basket with local snacks, information about the area, and a personalized note to make your guests feel at home.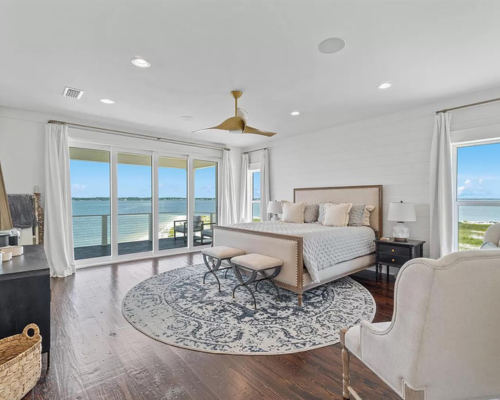 10. Regularly update and refresh
To maintain a modern and inviting ambiance, regularly assess your vacation rental's decor and make updates as needed. When guests look at rental photos on booking sites, they can be turned off by old and outdated furniture. Stay updated with design trends and consider refreshing elements like artwork, accent pieces, or linens to ensure your space continues attracting guests.